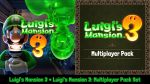 Switch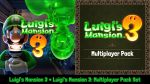 Luigi's Mansion™ 3 + Multiplayer Pack Set
Press "Notify when price drops" button to track Luigi's Mansion™ 3 + Multiplayer Pack Set price or check other Nintendo Switch deals and discounts by pressing "Discounts" button
Ratings
Metacritic
Score
/ 100
Critics:
Metacritic
User Score
/ 10
Ratings:
Nintendo
Rating
-- / 5
Ratings: --
What's Inside
○
Luigi's Mansion™ 3 + Multiplayer Pack Set
Description
Luigi's invited to the towering Last Resort hotel, but when Mario and friends go missing, our green-clad hero will have to conquer his fears to save them! Slam, blow away, and vacuum up ghosts with the all-new Poltergust G-00, and join forces with Gooigi to overcome the puzzling contraptions and mischievous boss on each themed floor. And that's just the Last Resort. Enter the ScareScraper for 8-player local wireless or online co-op gameplay.
The ghost hunt continues into 2020 with the Luigi's Mansion™ 3 Multiplayer Pack DLC! This DLC adds chilling-yet-charming costumes that Luigi can sport in the ScareScraper mode and matching themes that transform the look of the tower's floors! Keep your flashlight close, because new surprises might even be found lurking the halls of this ghoulish gauntlet! When you and your friends aren't slamming and strobing your way through the ScareScraper, the new minigames this DLC brings to ScreamPark can make for some frightening…er, friendly competition.