Switch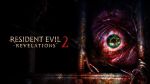 Resident Evil Revelations 2
Press "Notify when price drops" button to track Resident Evil Revelations 2 price or check other Nintendo Switch deals and discounts by pressing "Discounts" button
Ratings
Metacritic
Score
/ 100
Critics:
Metacritic
User Score
/ 10
Ratings:
Nintendo
Rating
3.6 / 5
Ratings: 131
What's Inside
○
Resident Evil Revelations 2
Info
Release date: Nov 28, 2017
Genre: Action
Rating:
Cheats:
Description
Resident Evil: Revelations 2, known as Biohazard Revelations 2 in Japan, is an episodic survival horror video game and the tenth installment of the Resident Evil franchise, developed and published by Capcom. The game is a follow up to Resident Evil: Revelations. An episodic game which comprises of 4 episodes, each of which feature two separate stories. The first is the tale of Claire Redfield and Moira Burton, daughter of Barry Burton - who work for biohazard protection group Terra Save. They are kidnapped and must survive on an island full of "Afflicted". The second story features Barry Burton, in search of his daughter, who upon reaching the island meets a strange girl named Natalia. He must retrace his daughters steps and find her before it is too late.