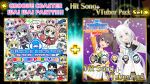 Switch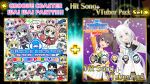 GROOVE COASTER WAI WAI PARTY!!!! + Hit Song+VTuber Pack Set
Press "Notify when price drops" button to track GROOVE COASTER WAI WAI PARTY!!!! + Hit Song+VTuber Pack Set price or check other Nintendo Switch deals and discounts by pressing "Discounts" button
Ratings
Metacritic
Score
/ 100
Critics:
Metacritic
User Score
/ 10
Ratings:
Nintendo
Rating
-- / 5
Ratings: --
What's Inside
○
GROOVE COASTER WAI WAI PARTY!!!! + Hit Song+VTuber Pack Set
Description
Get "GROOVE COASTER WAI WAI PARTY!!!!" and "Hit Song + VTuber Pack" DLC at special price until 10th October!

▼"GROOVE COASTER WAI WAI PARTY!!!!"
■Rhythm Game x Roller Coaster!!!!
Ride a roller coaster of sound with simple controls, and get grooving in this exhilarating rhythm game!

■Exhilarating active controls!!!!
With Active Controls, you can play by shaking the Joy-Con™ controllers. Experience the groove in a variety of songs, only possible on Nintendo Switch™!
You can also play with Standard Controls, using the buttons and control sticks!

■Groove together!!!!
Play together with up to 4 friends and family members in Play With Others mode!
In this mode you can choose from two types of play. In Casual Versus, players of any ability level can enjoy the game together, and in Hardcore Versus, players compete to show off their true skill!

■A huge line-up of popular music!!!!
A massive line-up of music, featuring J-pop hits like "Lemon" and "U.S.A.," anime songs, Vocaloid and Touhou Project arrangements, as well as popular original songs from the Groove Coaster series!

■Choose from a fabulous cast of characters!!!!
Featuring characters from VTubers and Vocaloid, to the Touhou series and more! These characters will feature in songs, as avatars and game navigators, and appear throughout various scenes!

You can even switch to the vocals of guest VTubers in certain songs!


▼"Hit Song + VTuber Pack"
A DLC pack for GROOVE COASTER WAI WAI PARTY!!!! that includes 10 songs, a navigator, and avatars from J-POP, ANIME, VTuber!

This pack includes the following content.
■Song Pack (10 songs)
・God knows…
・only my railgun
・The Kōga Ninja Scrolls *Locked Song
・Gokuraku Jodo
・Yoru ni Kakeru
・Hibari
・Shiny Smily Story
・Tatake Tatake Tee Tatake
・-A.I.D-
・Yumemiru Sorae

■Navigator
・Natsuiro Mtsuri *with voice
・Shirakami Fubuki *with voice

■Avatar
・MATSURI(2D)
・FUBUKI(2D)
・NoA(2D)
・Io(2D)
・mana(2D)

*Some content will be unlocked via missions after downloading.