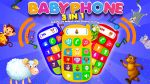 Switch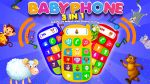 Baby Phone 3 in 1 for Kids, Puzzle, Animal, Funny, Parent, Coloring
Press "Notify when price drops" button to track Baby Phone 3 in 1 for Kids, Puzzle, Animal, Funny, Parent, Coloring price or check other Nintendo Switch deals and discounts by pressing "Discounts" button
Ratings
Metacritic
Score
/ 100
Critics:
Metacritic
User Score
/ 10
Ratings:
Nintendo
Rating
-- / 5
Ratings: --
What's Inside
○
Baby Phone 3 in 1 for Kids, Puzzle, Animal, Funny, Parent, Coloring
Description
Your child can play with a virtual phone that is designed just for them. The phone features animal numbers that your child can dial, and they will hear corresponding animal sounds. This helps your child learn about different animals and their unique sounds, while also promoting their cognitive development and memory skills.
This game features adorable animal illustrations and sounds that will capture your child's attention and imagination. It is designed to be easy to use and navigate, ensuring that your child can play and learn independently.
With Baby Phone 3in1, your child will have a fun and educational experience that promotes their learning and development. It is the perfect choice for parents who want to provide their children with a safe and engaging digital experience.