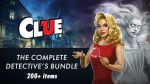 Switch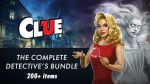 Clue: The Complete Detective's Bundle
Press "Notify when price drops" button to track Clue: The Complete Detective's Bundle price or check other Nintendo Switch deals and discounts by pressing "Discounts" button
Ratings
Metacritic
Score
/ 100
Critics:
Metacritic
User Score
/ 10
Ratings:
Nintendo
Rating
-- / 5
Ratings: --
What's Inside
○
Clue: The Complete Detective's Bundle
Description
Get all of the atmospheric boards and mysterious characters for the complete Cluedo experience!

CLUEDO is the classic mystery game - a grand mansion … a dastardly murder … a gathering of suspicious characters. Now you can play the beloved Hasbro family board game on Nintendo Switch™!

WHO, with WHAT weapon, and WHERE?

The Ultimate Detective's Package grants access to ALL themes and character packs. Themes transform the board and characters into exciting new variations. Take a trip to Tinseltown with the Hollywood theme, or follow in the footsteps of the master-detective Sherlock!

The Ultimate Detective's Package CONTENTS:

CLASSIC THEME- inspired by the original edition of the board game.
SHERLOCK THEME- was it Moriarty in Hyde Park?
EGYPTIAN ADVENTURE THEME - Was it Green the adventurer under the sphinx?
INTERNATIONALS CHARACTER PACK - Mrs. White returns, along with other past favourites like Miss Peach!

HOLLYWOOD THEME - was it Scarlett the director in the film studio?
VAMPIRE THEME - was it Mustard the werewolf in the Transylvanian castle?
SNOWY PEAKS THEME - was it Green the ski instructor in the winter chalet?
MURDER EXPRESS THEME - was it Lord Plum on the prestigious locomotive?
TROPICAL MYSTERY THEME - Was it Captain White on the Bridge?
WILD WEST THEME - was it bounty hunter Scarlett in the frontier town?
MASQUERADE THEME - was it the twin White princesses in the Venetian palace?