Switch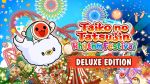 Taiko no Tatsujin: Rhythm Festival Deluxe Edition
Press "Notify when price drops" button to track Taiko no Tatsujin: Rhythm Festival Deluxe Edition price or check other Nintendo Switch deals and discounts by pressing "Discounts" button
Ratings
Metacritic
Score
/ 100
Critics:
Metacritic
User Score
/ 10
Ratings:
Nintendo
Rating
-- / 5
Ratings: --
What's Inside
○
Taiko no Tatsujin: Rhythm Festival Deluxe Edition
Info
Release date: Sep 23, 2022
Genre: Music
Rating:
Cheats:
Description
Online Music Not Rated by the ESRB

Includes:
- Main Game
- 90-Day Taiko Music Pass (single-use non-auto-renew)

TAIKO MUSIC PASS
Access over 500 songs, such as the latest popular songs, well-known anime songs, VOCALOID songs, game music, and classical music!!
The songs included in the Taiko Music Pass can be played in Taiko Mode, Great Drum Toy War, and online modes as well!

- New songs are added every month!
- Download your favorite songs to enjoy them when and wherever you want!
- Members get the exclusive Kumi Drum outfit for DON-chan!

RHYTHM FESTIVAL
Welcome to Omiko City, the stage for Taiko no Tatsujin: Rhythm Festival! A city full of everyone's favorite Taiko elements is gathered into one town! Together with DON-Chan, meet your new friend, Kumo-kyun and aim to become a Taiko Master!

76 songs including Gurenge, Feel Special, and Into the Night are available in the game! As well as Improvement Support that helps you with upping your drumming skills!

Participate in Online Ranked Matches and battle against with players from around the world!
There are other modes to enjoy with everyone, like DON-chan Band, where Players work as a group of 4 to perform successful concerts! Also Great Drum Toy War, where Players make a deck of toys for Taiko battles!

Have fun playing Taiko solo, or together with friends!

*The Taiko Music Pass included in this product will not be automatically renewed after expiration.

*An internet connection and connecting to your Nintendo account is necessary for use. A Nintendo Switch Online membership is not required.
*After downloading songs from Taiko Music Pass to My Library, it may be necessary to download them again.
*The songs included in the Taiko Music Pass may change without prior notice. Some songs are also sold individually, so be careful of duplicate purchases.
*The Taiko Music Pass has a maximum subscription period of 180 days.
*If a Taiko Music Pass is purchased after the maximum subscription length has been exceeded, the purchase will not be processed properly.
*The remaining days on the Taiko Music Pass can be checked in the game.*If multiple Nintendo Switch consoles are owned, the Taiko Music Pass can only be used on the Switch console that is the primary unit for the Nintendo Account (user) the Taiko Music Pass was purchased on.