Switch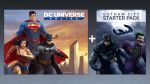 DC Universe™ Online + Gotham City Starter Pack
Press "Notify when price drops" button to track DC Universe™ Online + Gotham City Starter Pack price or check other Nintendo Switch deals and discounts by pressing "Discounts" button
Ratings
Metacritic
Score
/ 100
Critics:
Metacritic
User Score
/ 10
Ratings:
Nintendo
Rating
-- / 5
Ratings: --
What's Inside
○
DC Universe™ Online + Gotham City Starter Pack
Description
DC Universe™ Online is now on Nintendo Switch™! Join thousands of other players in this free-to-play, massively multiplayer online action game set in the popular DC universe.
• Channel your inner hero or villain by creating a unique, customizable character with a variety of superpowers
• Experience thrilling, fast-paced battles alongside and against DC characters including Batman, Wonder Woman, Superman, The Joker, and more
• Explore immersive, story-driven adventures in Gotham City, Metropolis, Titans Island, Themyscira, Atlantis and many other famous DC locations
THIS BUNDLE INCLUDES ONE GOTHAM CITY STARTER PACK – AN IN-GAME COLLECTION OF ITEMS THAT CONTAINS:
• Two full iconic style suits, Future Crusader and Clown Prince
• A Gotham City Emergency Signal that provides a permanent 25% experience boost to one character and will call the aid of Batman (for heroes) or the Joker (for villains)
• Twenty-five (25) Source Marks used to buy gear and other items in-game
• Ten (10) Soder Colas to regenerate health and power
• Four (4) Radar Enhancers to track special Collections throughout Gotham City and Metropolis that grant their own rewards.

Once you have entered the game with a character, the Starter Pack can be claimed through the Redeem/Claim section of the in-game Marketplace. All style items are Account Bound and can only be traded to other characters on your account.
An SD Card is required to play this game.