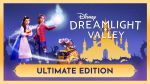 Switch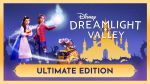 SAVE: 35%
Ends: Sep 28, 2023
Disney Dreamlight Valley — Ultimate Edition
Press "Notify when price drops" button to track Disney Dreamlight Valley — Ultimate Edition price or check other Nintendo Switch deals and discounts by pressing "Discounts" button
Ratings
Metacritic
Score
/ 100
Critics:
Metacritic
User Score
/ 10
Ratings:
Nintendo
Rating
-- / 5
Ratings: --
What's Inside
○
Disney Dreamlight Valley — Ultimate Edition
Description
This Edition grants access to the game and contains exclusive items.
• Access to Disney Dreamlight Valley
• All the exclusive cosmetic items from the Standard and Deluxe Edition
o From the Standard Edition: 9 decorative items, 3 motifs & 2 wearable items
o From the Deluxe Edition: 1 animal companion, 10 decorative items, 3 motifs & 7 wearable items
• 20,000 Moonstones* (in-game currency)
o These Moonstones can be used to activate the premium Star Path**, granting extra rewards for 7 seasons.
• Exclusive Ultimate Regal Fox animal companion
• Exclusive Ultimate Clothing Set (2 wearable items)
• Exclusive Ultimate Ears Headband and Jersey (2 wearable items)
• Exclusive Ultimate Furniture Set (13 decoration items)
• Exclusive Ultimate Wall & Floor Coverings (2 decoration items & 2 color variants)
• Exclusive Ultimate Design Motifs (3 motifs to use in the Touch of Magic tool***)
*Moonstones are an in-game currency that can be collected for free by performing tasks in the game or be purchased using real money. They are used to unlock the premium track of the Star Path (a battle-pass-inspired system that grants in-game cosmetic items as a player completes various tasks and missions). Moonstones can also be used to accelerate progress in the Star Path. Additionally, Moonstones can be used to purchase cosmetic items from the in-game store that will be added later.
**The Star Path is a season-based mission system inspired by the idea of a "Battle Pass" and used to reward players for completing various missions and tasks. The player has a full season to complete a set of duties to receive exclusive cosmetic items (clothing items, companions, furniture sets, etc.). The duration of a season will be determined with the help of the community. The plan for now is to make each season last one month.
***The Touch of Magic is an in-game tool that allows the player to create custom T-shirts, backpacks, Mickey ears headbands, etc. Using a variety of colors, shapes and motifs, players will be able to create an infinite number of combinations and express themselves in unique ways!
For more details on the Edition and its contents, please visit https://gameloft.helpshift.com/hc/en/66-disney-dreamlight-valley/section/388-monetization/