Switch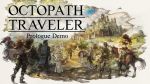 Octopath Traveler™ - Prologue Demo Version
Press "Notify when price drops" button to track Octopath Traveler™ - Prologue Demo Version price or check other Nintendo Switch deals and discounts by pressing "Discounts" button
Ratings
Metacritic
Score
/ 100
Critics:
Metacritic
User Score
/ 10
Ratings:
Nintendo
Rating
-- / 5
Ratings: --
What's Inside
○
Octopath Traveler™ - Prologue Demo Version
Description
Eight travelers. Eight adventures. Eight roles to play in a new world brought to life by Square Enix. Now you can enjoy the first chapter of each in the new demo available on Nintendo eShop. Step into the shoes of each of the eight travelers to explore the world. Then carry your choices into the main game, once purchased, with save data transfer.

Use each character's special abilities in and out of battle. Break through enemy defenses by discovering and targeting weaknesses. Store Boost Points with each turn and then spend them at strategic times to strengthen abilities, chain attacks, or provide aid. Choose the path you wish to walk and discover what lies beyond the horizon.